In August 2014, a pipe burst in Lydia's Port Charlotte, Florida home, causing 14,000 gallons of water to spread throughout the entire house.  The damage was devastating.  Everything was drenched with water, including the home's walls, insulation, carpet, cabinets, and furniture, along with much of Lydia's personal property.
 Lydia, a senior citizen, had dutifully paid her homeowner's insurance premiums for years.  She promptly contacted her insurance company and gave notice of the claim.  The insurance company inspected the damage, and offered just $13,797.43.  This was just a small fraction of the amount Lydia needed to fix her home and replace her damaged property.  Lydia and her family tried to resolve the issue without involving lawyers, but the insurance company refused to pay any more money on the claim.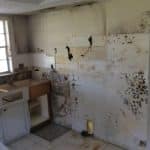 Lydia hired Wites Law Firm on November 26, 2014, and we immediately filed a lawsuit on her behalf against the insurance company.  We settled the case for Lydia in early January 2015.  The insurance company agreed to pay Lydia $100,043, and also paid our law firm's attorney's fees and costs.  As a result, Lydia was not required to pay Wites Law Firm any money for attorney's fees or costs.
It was very unfortunate that Lydia needed to hire a lawyer to obtain the full value of her claim.  She did not have any choice, as her insurance company refused to honor its obligations under the insurance policy and pay the full value of the claim. Wites Law Firm was honored to help Lydia, and quickly get her the money that she deserved.